Freight Forwarder
An organization which provides logistics services as an intermediary between the shipper and the carrier, typically on international shipments. Freight forwarders provide the ability to respond quickly and efficiently to changing customer and consumer demands and international shipping (import/export) requirements.
Related Links
What Does a Freight Forwarder Do & Do You Need One?
13 Things You Need to Know About Freight Forwarding
Freight forwarder
What is a freight forwarder? Dedola Global Logistics
An Introduction to Freight Forwarding
Sino Shipping – an international freight forwarder based in Hong Kong, China.
Related Videos
What is FREIGHT FORWARDER? What does FREIGHT FORWARDER mean? FREIGHT FORWARDER meaning & explanation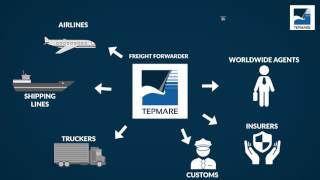 TEPMARE - Role of a freight forwarder
What is FREIGHT FORWARDER? What does FREIGHT FORWARDER mean? FREIGHT FORWARDER meaning & explanation

TEPMARE - Role of a freight forwarder