Non Vessel Operating Common Carrier (NVOCC)
A Non Vessel Operating Common Carrier (NVOCC) is defined as a firm that offers the same services as an ocean carrier, but which does not own or operate a vessel.
An NVOCC is usually acting as a consolidator, accepting small shipments (LCL) and consolidating them into full container loads.
They also consolidate and disperse international containers that originate at or are bound for inland ports.
The NVOCC then acts as a shipper, tendering the containers to ocean common carriers.
In order to offer these services, the NVOCC is required to file tariffs with the Federal Maritime Commission and is subject to the same laws and statutes that apply to primary common carriers.
An NVOCC provides an important service in the logistics industry by enabling smaller businesses to have their goods shipped internationally without having to go through the process of booking cargo space on a vessel themselves. This can be a complicated and time-consuming task, so using an NVOCC can save businesses a lot of time and hassle.
If you are considering using an NVOCC for your shipping needs, it is important to do your research to make sure you are choosing a reputable and reliable company. You should also be aware that there may be additional fees charged by an NVOCC, on top of the usual shipping costs, so be sure to factor this into your budget.
Related Links
Non-Vessel Operating Common Carrier (NVOCC) – Flexport Glossary
Ocean Transportation Intermediaries
What is non vessel operating common carrier (NVOCC)?
NVOCC and Freight Forwarder
Definition of Nvocc – What is Nvocc ? Nvocc Meaning – The Economic Times
Non-vessel Operating Common Carrier (NVOCC) – FAQ'S
Related Videos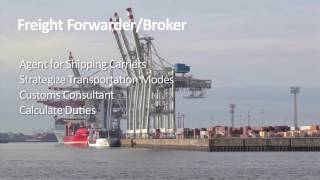 Differences between a Freight forwarder and NVOCC and IAC
Differences between a Freight forwarder and NVOCC and IAC