Bill of Lading (BOL)
A transportation document that is the contract of carriage containing the terms and conditions between the shipper and carrier. It is used as a receipt for cargo and is evidence of the contract made between the two.
The bill of lading has several functions:
It serves as a document that facilitates the transfer of goods from one party to another.
It provides proof that goods were actually shipped.
It identifies who can collect/claim goods by referencing a unique number assigned by a carrier, so claims will be resolved faster.
By providing all terms and conditions about shipping it becomes clear what is expected from both parties in order to prepare documentation before shipment begins. In case something goes wrong, it would provide information on how to resolve possible problems with delivery or receiving damaged products.
A bill of lading should contain certain elements. First, it should contain a minimal data set to identify the contract between the shipper and carrier. It also includes information about the freight rates, surcharges and other fees associated with transportation of goods. A signature from a person representing the carrier is required as well, along with a seal to make it official.
The date of issuance and date of arrival are also included to help keep track of shipments for accounting purposes. Other useful information could be included such as shipment type (dry, refrigerated), weight and volume measurements or container identification numbers/type/capacity if that applies.
In order for a bill of lading to provide proof that goods were actually shipped, there needs to be an example of what was shipped included as well and this is usually done with a bill of lading number.
Because the bill of lading serves as a contract between the shipper and carrier, it should contain all necessary information about shipping terms and conditions so that there are no misunderstandings later on. Terms described in the bill of lading include:
When goods will be delivered to receiver.
Who has responsibility for ocean/trucking/rail freight charges if they change over time before shipment begins.
How many copies need to be submitted upon arrival at destination depending on local laws or those requested by customer.
If storage fees will be charged while waiting for cargo at origin or destination ports.
If insurance is required.
Who bears responsibility of loss or damage of goods during transportation.
If carrier requires the importer to accept the bill of lading before delivery can be completed.
– Any other information necessary for cargo to arrive at destination safely and on time, e.g.: Are dangerous/hazardous materials allowed? Are live animals permitted? Is hazardous waste allowed? Indicate if dangerous goods are packaged dangerous goods under UN number requirements (UN1067, etc).
Usually it will state how many copies need to be submitted upon arrival at destination depending on local laws or those requested by customer. It may also refer the receiver(s) to a website for further information about third party charges that may be incurred at destination.
There are three different types of bills of lading defined by the Carriage of Goods by Sea Act (COGSA), and they depend on the mode of transportation:
Seaway bill: is a multimodal transport document valid for carriage by sea and inland waterway transportation only.
Straight bill: covers carriage by sea or inland waterway with no road or rail segment.
Combined transport bill: is a multimodal document combining carriage by sea and any mode of land transportation in both directions.
Related Links
What is a Bill of Lading (BOL)? – Bill of Lading Definition – Freightquote
Bill of Lading (BOL): What You Need to Know – Freightquote
Bill of lading
Bill of Lading – Example Form from UPS
What is a BOL or Bill of Lading – BOL Shipping
Create and Print a Bill of Lading : Infoplus Support
Related Videos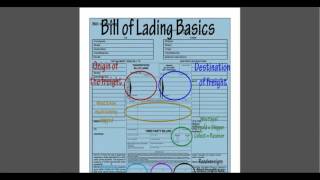 BOL - (Bill of Lading) The Title To The Goods - How You Get Paid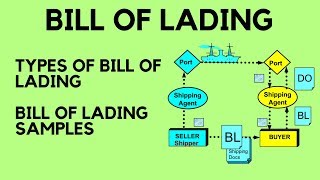 Bill of Lading : Types of Bill of Lading & Bill of Lading Samples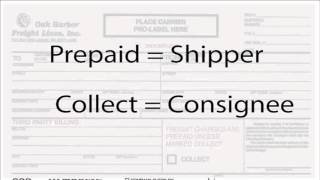 Bill of Lading Basics part 1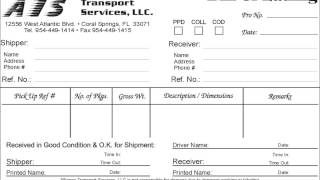 bill of lading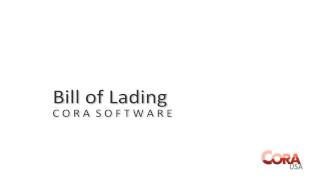 Bill of Lading (BOL)
BOL - (Bill of Lading) The Title To The Goods - How You Get Paid

Bill of Lading : Types of Bill of Lading & Bill of Lading Samples

Bill of Lading Basics part 1