Federal Maritime Commission
The Federal Maritime Commission (FMC) is the primary regulatory agency responsible for rates and practices of ocean carriers shipping to and from the United States. The FMC's mission is to "promote the development and maintenance of an efficient, safe, fair and competitive international ocean transportation system."
In order to achieve this mission, the FMC has a number of responsibilities, including:
Investigating and adjudicating claims of unfair practices by ocean carriers or their agents.
Monitoring compliance with tariffs and service contracts.
Processing applications for Ocean Transportation Intermediary licenses.
Conducting economic regulation of the liner shipping industry through rate filings and service agreements.
The FMC also serves as an advocate for the US shipping industry before international organizations such as the International Maritime Organization (IMO).
Ultimately, the goal of the FMC is to ensure that the US shipping industry remains strong and competitive in the global marketplace. This benefits both American businesses and consumers by ensuring that goods can be transported efficiently and affordably.
Related Links
OTI List
Federal Maritime Commission – Supply Chain 24/7 Company
Federal Maritime Commission feels shippers' pain – Logistics Management
Federal Maritime Commission
Related Videos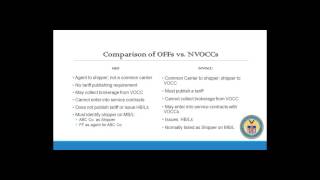 Federal Maritime Commission Programs, Initiatives, and Dispute Resolution
Federal Maritime Commission Programs, Initiatives, and Dispute Resolution