Great Lakes Carriers
In the world of logistics, Great Lakes carriers are often overlooked because they don't serve as many ports as ocean carriers. However, these vessels play an important role in transporting goods and materials to and from North America.
Great Lakes carriers transport cargo on the five Great Lakes – Superior, Huron, Michigan, Erie, and Ontario.
They can carry a wide variety of goods, including construction materials, food products, automotive parts, and machinery.
Due to their location, Great Lakes carriers are ideally positioned to serve the Midwest and the Northeast United States.
They can also reach Canadian ports in Montreal, Quebec City, and Toronto. This makes them a valuable asset for companies that need to distribute goods across North America.
Great Lakes carriers are typically smaller than ocean carriers. This allows them to navigate the narrow waterways and locks that are found on the Great Lakes. They can also dock at smaller ports, which is important for companies that want to minimize their shipping costs.
Despite their smaller size, Great Lakes carriers are able to transport large volumes of cargo. This makes them a cost-effective option for businesses that need to move large shipments.
Great Lakes carriers are a vital part of the North American logistics landscape. Thanks to their strategic location and capacity, they can help companies distribute goods quickly and efficiently across the continent.
Related Videos
Great Lakes Ships Episode 1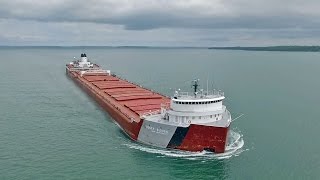 Shipping on the Great Lakes... A Bird's Eye View, Summer 2015, Part 1
Great Lakes Ships Episode 1

Shipping on the Great Lakes... A Bird's Eye View, Summer 2015, Part 1