Invoice
An invoice is a document that shows goods sold or shipped and the amounts for each. The invoice is prepared by the seller and acts as the document that the buyer will use to make payment.
In logistics, an invoice is used to keep track of shipments and ensure that payments are made in a timely manner. An accurate and up-to-date invoicing system is essential for efficient operations.
When goods are sold or shipped, an invoice is generated. This document lists the items that were shipped, the quantities, the prices, and any other relevant information. The purpose of an invoice is to provide a record of the transaction so that both parties can keep track of what was purchased and when payment is due. Invoices are typically generated by the seller, but they can also be created by the buyer. In either case, the invoice should include all relevant information about the shipment so that there are no misunderstandings later on. This includes:
the date of shipment,
the mode of transportation,
the weight and dimensions of the goods,
any special instructions.
Once an invoice has been generated, it will be sent to the buyer. The buyer will then use this document to make payment. In most cases, payment is due within a certain period of time, such as 30 days. Prompt payment is essential to maintaining a good relationship with your logistics provider.
If you are using a third-party logistics provider, it is important to ensure that their invoicing system is accurate and up-to-date. This will help to avoid any delays or problems with payments. An efficient invoicing system is essential for smooth operations and strong customer relationships.
Related Links
SAP Library – Logistics Invoice Verification (MM-IV-LIV)
Related Videos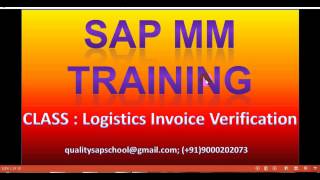 Logistics Invoice Verification
How to Create Commercial Invoice Document for Import Export Business Trade Logistics Supply Chain
What is INVOICE PROCESSING? What does INVOICE PROCESSING mean? INVOICE PROCESSING meaning
Logistics Invoice Verification

How to Create Commercial Invoice Document for Import Export Business Trade Logistics Supply Chain

What is INVOICE PROCESSING? What does INVOICE PROCESSING mean? INVOICE PROCESSING meaning