Order Management
In the context of logistics, order management is the planning, directing, monitoring, and controlling of the processes related to customer orders, manufacturing orders, and purchase orders:
Regarding customer orders, order management includes order promising, order entry, order pick, pack and ship, billing, and reconciliation of the customer account.
Regarding manufacturing orders, order management includes order release, routing, manufacture, monitoring, and receipt into stores or finished goods inventories.
Regarding purchase orders, order management includes order placement, monitoring, receiving, acceptance, and payment of supplier invoices.
Order management is a critical part of logistics, as it ensures that customer orders are fulfilled correctly and in a timely manner, that manufacturing orders are processed efficiently, and that purchase orders are placed correctly and paid for promptly. Logistics order management systems (LOMS) are used to automate and streamline these processes.
Related Links
What is order management?
Order management – Supply Chain Resource Cooperative – NC State University
Related Videos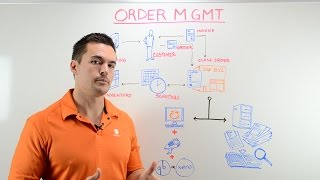 Order Management - Whiteboard Wednesday
Order Management - Whiteboard Wednesday