Returns Inventory Costs
Returns Inventory Costs (RIC) is the portion of inventory carrying cost that results from managing inventory returned for any of the following reasons:
repair,
excess,
obsolescence,
end of life,
ecological conformance,
and demonstration.
RIC includes all applicable elements of the Level 2 component Inventory Carrying Cost of Total Supply Chain Management Cost 1.
In other words, Returns Inventory Costs are those associated with managing inventory that is returned for various reasons. This can include costs related to repairing or refurbishing items, as well as costs associated with disposing of excess or obsolete inventory. Returns Inventory Costs also take into account the environmental impact of returned goods.
Returns Inventory Costs can have a significant impact on a company's bottom line. Therefore, it is important for logistics managers to understand and manage these costs effectively.
Related Links
What Your Inventory Reveals about Your Reverse Logistics – PLS Logistics Services; What Your Inventory Reveals about Your Reverse Logistics – PLS Logistics Services
Reverse Logistics – Effective Returns Management in an Integrated Supply Chain – Supply Chain Management Review
How to Plan for Reverse Logistics in Your Supply Chain
Reverse Logistics – Customer Returns
Managing Reverse Logistics to Improve Supply Chain Efficiency and Reduce Cost – Supply Chain 24/7
Related Videos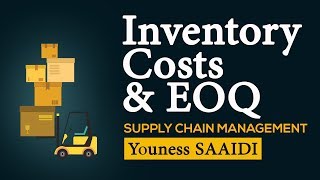 Supply Chain Management - Inventory costs & EOQ
05 LOST (LOGISTIC SIMULATOR) Inventory Cost
Supply Chain Management - Inventory costs & EOQ

05 LOST (LOGISTIC SIMULATOR) Inventory Cost