Air Transport Association of America
The Air Transport Association of America (ATA) is a trade association of the major airlines in the United States. It was founded in 1936 and represents 34 airlines, including all of the "big six" US carriers.
The ATA's primary purpose is to advocate for the interests of its members with policymakers in Washington, D.C. It lobbies on a variety of issues related to aviation policy, including safety, security, taxation, and regulation. The ATA also provides its members with research and analysis on aviation-related issues.
It aims to promote safe, secure, and efficient air transportation and foster sustainable economic growth for the United States. The ATA represents its members before Congress, federal agencies, the media, and the public. It also provides training and education services to its members, and advocates on behalf of aviation interests before international organizations.
The ATA's members include the following airlines:
Delta Air Lines, Inc.
United Airlines, Inc.
American Airlines, Inc.
US Airways Group, Inc.
SkyWest, Inc. (Operates independently in North America; operates as Delta Connection through a code sharing agreement with Delta Air Lines.)
Republic Airways Holdings, Inc. (Operates independently in North America; wet leases regional aircraft to U.S. Airways under the US Airways Express brand.)
Hawaiian Holdings, Inc. (Owned by parent company of Hawaiian Airlines)
Alaska Airlines, Inc., Virgin America (Added June 2014)
The ATA has grown into the voice of the broad-based U.S. air cargo industry, promoting policies that facilitate international trade and global competitiveness while ensuring a safe, efficient air transportation network. The ATA advocates before Congress and federal agencies on behalf of members, who combined account for approximately 80 percent of all U.S. air cargo revenue traffic."
Recently, the ATA has been in the news, calling for a 'Global 21st Century Freight Transportation System'. The Global TransPark Program is an educational outreach program that helps provide information on this new initiative. In addition to highlighting current ATA projects and initiatives on its website, the ATA recently launched "The Hub," a Multimedia Platform which provides members with tools needed to better communicate future cargo trends and industry initiatives on their respective websites.
In addition since 2010, the ATA has worked with universities across the United States to establish Centers of Excellence in Logistics Education (COEL). These centers allow students at participating universities to gain real-world work experience while earning course credit. They also provide faculty enrichment opportunities and help to promote logistics education at the university level.
Related Links
Air Transport Association – iftta.org
Airlines for America
The Air Transport Association of America (ATA) – News, Articles and Whitepapers – International Airport Review
Company Overview of Air Transport Association Of America
Related Videos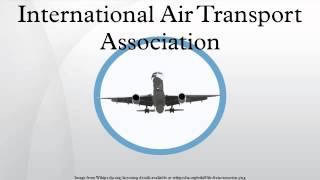 International Air Transport Association
International Air Transport Association