Arrival Notice
An arrival notice is a notification from a carrier (such as FedEx, UPS, or USPS) to the consignee (the person or company receiving the package) that a shipment has arrived at its destination. The arrival notice will include information such as the carrier's tracking number for the package, the sender's name and contact information, the recipient's name and contact information, and details about the package itself (e.g., weight, dimensions, contents).
The arrival notice is an important document in logistics and supply chain management, as it enables companies to track their shipments and keep tabs on their inventory. It also allows businesses to plan production schedules and allocate resources accordingly.
An arrival notice is not the final stage of a delivery process. The shipment will likely need to clear customs before it can be delivered, so companies should expect their packages to arrive later than indicated on the arrival notice.
The information found in an arrival notice varies depending on the carrier being used. FedEx provides detailed tracking information that includes six possible events for each package: "On Truck," "At UPS Worldport Destination Facility," "Processed Through Sort Facility," "Arrived at Destination Airport," "Out for Delivery" and finally, "Delivered." As of December 2018, UPS provides only two stages for its shipments: "Shipment Information Received" and "Acceptance".
Postal services as USPS provide little or no tracking information. It will record the date and time that the package was accepted by a postal carrier for delivery, but not anything more specific than that.
As of May 2019, United Parcel Service provides only one stage of tracking information: "Shipment Information Received."
Related Links
Related Videos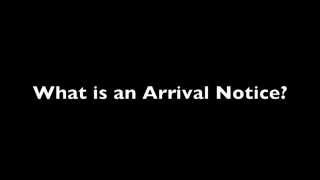 What is an Arrival Notice
What is an Arrival Notice