Carrier Liability
A common carrier is responsible for all shipment loss, damage, and delay unless it is due to an act of God, a public enemy, a public authority, the shipper's action, or the nature of the items. A common carrier is liable for the entire shipment, regardless of whether the loss or damage occurred while in its possession.
The liability of a carrier is often determined by contract. The shipper and carrier may agree to a limited liability for the carrier. For example, the carrier may be only liable for damage that exceeds a certain value or that occurs during a certain time period. If the carrier is not liable for a particular event, the shipper may still be able to hold the carrier liable if the event was caused by the carrier's negligence.
A carrier is also responsible for any fines or penalties assessed as a result of violating government laws or regulations. For example, a carrier may be fined for violating hazardous material regulations.
A carrier's liability can also be affected by the type of goods being transported. For example, carriers are usually not liable for loss or damage to live animals or perishable items.
The liability of a carrier can be complex and may vary depending on the specific situation. It is important to understand the terms of any agreement between the shipper and carrier in order to know who is responsible for any damages or losses that occur during transport.
Related Links
Carrier Liability versus Cargo Insurance- What's the Difference?
Logistics and insurance-Carrier's liability – burden of proof
Related Videos
How To Minimize Broker's Liability through Carrier Risk Management - Qualification and Monitoring
Clarifying Carrier Limits of Liability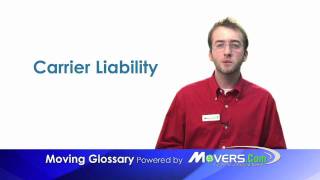 Carrier Liability - Moving Glossary - Movers.com
How To Minimize Broker's Liability through Carrier Risk Management - Qualification and Monitoring

Clarifying Carrier Limits of Liability

Carrier Liability - Moving Glossary - Movers.com