Class 1 Railroad
A Class 1 Railroad is a freight railroad company in the United States with an operating revenue of over $272.0 million. There are seven Class 1 Railroads in the United States, and two Mexican and two Canadian railroads would also qualify if they were US companies.
Class 1 Railroads are essential for logistics and transportation needs in the United States. They play a vital role in the economy by connecting businesses and communities with each other, and moving goods throughout the country.
The importance of Class 1 Railroads is evidenced by their high operating revenue. This revenue is generated from the freight that they transport, which includes a wide variety of goods such as agricultural products, automotive parts, coal, lumber, and finished goods.
Class 1 Railroads are also responsible for transporting a large percentage of the country's hazardous materials. This cargo requires special training and handling to keep everyone safe.
The seven Class I Railroads in the United States are:
(Amtrak and Via Rail— would both qualify as Class I if they were freight carriers.)
Related Links
Related Videos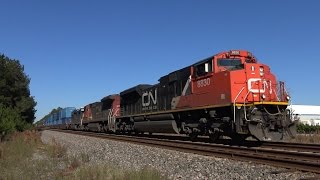 Six Class 1 Railroads in One Day
Six Class 1 Railroads in One Day