American Trucking Associations
A motor carrier industry association composed of sub-conferences representing various motor carrier industry sectors.
The American Trucking Associations (ATA) is a trade association representing the trucking industry in the United States. ATA represents more than 1,000 truckload, LTL, and private fleet companies. The ATA's stated mission is to "promote and protect the interests of motor carriers and drivers involved in highway transportation."
The ATA's core functions include:
Promoting laws and regulations that are beneficial to the trucking industry
Providing a voice for the trucking industry in Washington D.C.
Developing standards for trucking companies and drivers
Providing education and training for members of the trucking industry
The ATA represents more than 36,000 members in the trucking industry including truckload, less-than-truckload, and third party logistics providers. The ATA is involved in a broad range of issues impacting the trucking industry, including highway safety, infrastructure funding, environmental regulations, and international trade.
In addition to the industry, the ATA works closely with legislators and regulators at all levels of government. The association's Government Affairs department assists members who have a stake in more than 400 pieces of legislation each year. The ATA actively represents its members by testifying on Capitol Hill, counseling federal and state agency officials, filing legal briefs, and submitting official comments – all aimed at helping ensure that public policies are friendly to the trucking industry as a whole.
The ATA also serves as a centralized source for education and training materials for those involved in the trucking industry. Over 1 million people are trained annually through courses provided by companies chosen from an ATA member directory.
The ATA has created an extensive array of publications aimed at keeping industry professionals up to speed on new laws and regulations that affect them. The association's monthly magazine, "Land Line", is one of the most read trucking magazines in North America; it provides industry news, events calendar, and information on benefits for members. The ATA also produces educational videos on key issues impacting the trucking industry including safety, fuel tax, Hours of Service (HOS), border crossing procedures, crash avoidance technologies and others.
Related Links
American Trucking Associations
American Trucking Associations
American Trucking Associations – Supply Chain 24/7 Company
ATA – American Trucking Association – CT LOGISTICS
American Trucking Associations
Related Videos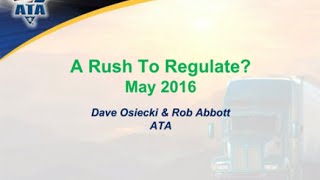 Webinar: Transportation Regulatory Update with American Trucking Associations (ATA)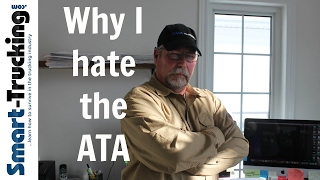 Why I Hate the ATA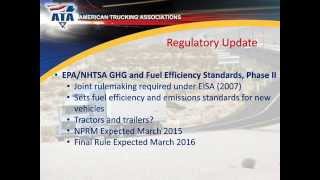 Transportation Regulatory Update with ATA
Webinar: Transportation Regulatory Update with American Trucking Associations (ATA)

Transportation Regulatory Update with ATA